There are many survey companies in the UK, but one of the more high profile and trusted among these is YouGov Panel.
With its 6 million members globally, YouGov is one of the authorities when it comes to legitimate survey organisations. With regular government and industry survey opportunities, this site not only has good paid surveys, but interesting ones too.
As with any site, there are some pros, cons and general things to be aware of when trying to use YouGov to make money.
Read my YouGov Panel review below or click here to join now.
YouGov Panel Survey Review 2023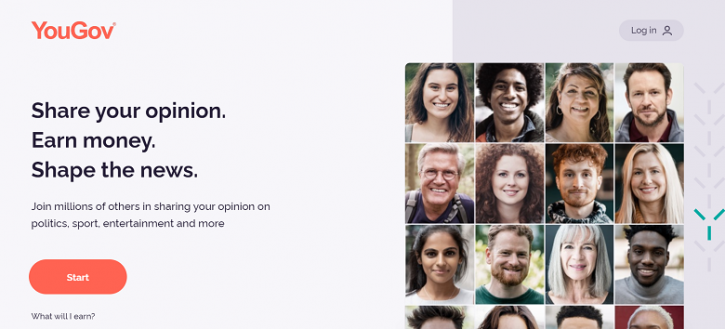 How to Get Started
YouGov makes it easier than some survey websites to sign up and get started.
You simply enter your information under each prompt, such as country of residence and year of birth etc, and begin receiving points immediately.
This initial welcome survey earned me 100 points and only took a couple of minutes. A confirmation email is sent to your email address.
Sign up is free and when completed, you can start taking surveys for cash.
You can get started here.
How to Earn Points
YouGov is a survey company and as such, this is the main way to make money with this site. Most surveys are under 20 minutes and the first one you do will earn you 2000 points.
On regular occasions, you'll also receive survey opportunities for prize draws. I highly recommend you take these short surveys (even if a prize draw reward doesn't interest you) as this information is often used to help YouGov find better survey opportunities for you in the future.
You can also get points for referring friends – up to 200 for each friend that joins and completes 6 surveys.
How Much Money Can You Make
The amount of survey opportunities people receive varies a lot. However, many users report that they receive anywhere between 2 – 7 surveys per week with each paying 300 – 500 points.
Some users report earning nothing and others state they receive up to £25 per month from surveys. Of course, there is no guarantee you'll receive this amount of surveys as it is highly dependent on how well you match the survey's specified demographics (and these can change with time).
Rest assured, however, that YouGov is well respected when it comes to online surveys, so don't be discouraged if initially you're not earning as much as you hoped you would.
How to Redeem Points?
You can redeem points either with gift cards or cash payments via PayPal.
There are some £5 gift card options which require just 5000 points to redeem.
You need £50 in your account before you can cash out via PayPal which can take quite a long time to accumulate (and it's an area where YouGov loses points in my review).
Note there can also be a delay for payments to be processed (up to 2 weeks usually).
Things to Consider
Conveniently YouGov offers a mobile app which makes doing surveys on the go all the more easy. This also makes receiving survey notifications easier.
YouGov also has an online community where you can discuss opinions with others, however this is just for entertainment.
Note that users need to be over 16 years old to join.
Summary – 4.0 / 5
If you want to join one of the more respected survey sites, YouGov Panel is a great choice. They may not have the highest paying surveys and there is no guarantee how many survey offers you'll receive, however they are one of the most trusted panels with a great app and an opportunity to share your opinion for the greater good.
Click here to sign up to YouGov Panel now.
Looking for another good survey site? Read my Opinion Outpost review here. You can find all my survey reviews here.
Suze is a stay at home mum who works on building her own business while making a side income from surveys.