When it comes to reliable sites to earn survey money, there's just no beating Toluna Opinions. This site is one of the most trusted and widely used survey sites around the globe, and they offer a whole host of ways to earn points and make money.
How can you become a Toluna Influencer? And is this site worth your time and effort?
Read about Toluna Opinions below or sign up here now.
Toluna Opinions Survey Review 2021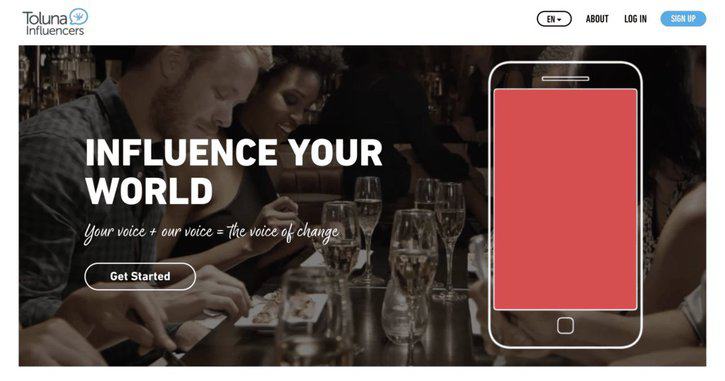 How to Get Started
There is no special requirements to sign up to Toluna. As with all top survey sites, sign up is free and relatively quick.
Once you complete provide basic information like your name, email address,  DOB etc, you'll then be given prompts to fill in your profile information – this is how you'll get the best surveys for you.
How to Earn Points
There is actually a whole host of ways to earn money with Toluna. You can get points from activities like participating in polls, playing games and participating in contests.
However by far the most lucrative way to earn points is with surveys. You'll see all surveys listed on your dashboard.
These surveys are provided by external organisations and so you'll see a whole range of topics (like banking, hobbies, shopping habits etc) to select from. It's important to be as honest as possible and provide reliable information to continue receiving the best surveys.
How Much Money Can You Make
Toluna mentions on their site that a single survey can pay anywhere from 15 to 50,000 points (depending on factors like type, length and complexity). When you look through your dashboard you'll see surveys available and how much they pay.
You'll find most surveys pay between 1000 and 6000 points and generally take under 20 minutes to complete. There can be a lot of variation depending on the topic and complexity.
Sometimes, you'll be invited to participate in focus groups which can pay a lot more.
Depending on the reward £1 is equal to around 5,500 points, so you can judge if the survey is worth your time.
How to Redeem Points?
Rewards options is another area where Toluna excels. You can see all the options in the rewards centre.
They have so many options when it comes to redeeming points. Pick from vouchers for cafés and restaurants, online stores like Amazon and Apple or retails vouchers.
When you have £35 in your account, you can request a PayPal payment.
Things to Consider
When it comes to making money with Toluna, profile information is extremely important. This is how they match you with appropriate surveys to suit your demographics. I recommend you offer as much information as you can (you'll receive points for doing so).
Perhaps the only downside of Toluna is their wait time for points and rewards. Most sites have some wait times (although some sites do pay instantly) but with Toluna you can be waiting up to 4 weeks for points to appear in your account, and then another 4-6 weeks to receive your reward (once you've claimed it).
This is worst case however, and in my experience, the wait is usually much shorter than this.
Summary – 4.5 / 5
Whether you want cash or gift vouchers, product reviews or simple surveys, Toluna Opinions is a great site to use. With its huge online community this site trusted site continues to provide its users reliable ways to make money.
Click here to sign up to Toluna Opinions now.
Suze is a stay at home mum who works on building her own business while making a side income from surveys.